Laura Agustin's full biography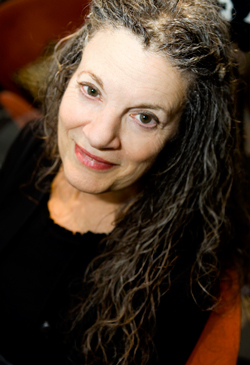 Dr Laura Agustín, The Naked Anthropologist, has researching migration and trafficking since the early 1990's.
Agustín's book Sex at the Margins: Migration, Labour Markets and the Rescue Industry (2007 Zed Books), which turned her overnight into a lightning rod for international controversy. The book has been praised everywhere from The New Statesman - 'One of the most important books on migration published in recent years' – to Italy's La Repubblica and Susie Bright's Journal – 'Will turn every assumption you might have on its head.'
Laura writes as a lifelong migrant and identifies with no nationality. Just back in Copenhagen-Malmö from a stint as Visiting Professor in Gender and Migration in Switzerland, she has danced with hustlers in Miami and strippers in San Francisco, learned safe-sex techniques from brothel workers in the Dominican Republic, roomed with an escort and her family in Melbourne and visited bar girls and jailed migrants in Bangkok.
She has recorded oral histories with asylum-seekers on the Mexican border, screamed herself hoarse at the Miss Exotic World pageant, listened to Albanian trafficking victims in an Italian shelter, discussed survival sex with internal migrants in Colombia and argued the pros and cons of being a maid or a prostitute with migrants in Spain.
She helped organise an event in Brussels where sex workers outnumbered their allies, taught English to Jewish refugees from the ex-Soviet Union and did literacy work with undocumented Latin Americans in New York. She has accompanied people handing out condoms on four continents and also worked as secretary, community organiser, dog-walker, research assistant, keypunch operator, supermarket manager, demolition worker, managing editor, packer, database manager and consultant to UNAIDS, the European Commission and the ILO. Her PhD is from the UK's Open University. She has never been a waitress.
She has learnt ten languages during her lifetime and forgotten most of them, but will do presentations in both English and Spanish and carry on conversations in Swedish and French. She wishes she could remember Arabic.
Laura Agustin's publications
Press appearances
She has been interviewed, and her book reviewed, in numerous newspapers, journals, websites, radio and television in many countries, amongst which: Swiss National Television (coming soon), Stockholm think-tank Timbro, The New Statesman, BBC Radio 4, Susie Bright's Journal, Weekendavisen, KPFK in Los Angeles, Reason Magazine, The Erotic Review, Neue Zürcher Zeitung, WBAI in New York, Australian Radio, La Repubblica and 20+ academic journals (full list here).
Laura's public, invited lectures include
* BBC World Debate on Trafficking (December 2010), Luxor (Egypt)
* 8 lectures in Swiss cities sponsored by Swiss Universities' Gender Network
* Pugwash Lecture, Rockefeller University, New York
* Institute for Contemporary Arts in London
* Danish Institute for International Studies, Copenhagen
* Nordic Migration Conference keynote speech in Bergen (Norway)
* Casa de la Cultura in Quito
* Woodrow Wilson International Center for Scholars in Washington
* Concejalía de Bienestar Social e Integración in Valencia
* University of Nevada in Las Vegas
* Human Rights Human Wrongs Film Festival in Oslo
* Thammasat Universitetet in Bangkok
* International AIDS Conference in Barcelona
* Global Fund for Woman-sponsored workshops with sex workers in Ecuador
* Italian Association for Women in Development in Rome
* Harm Reduction Conference keynote speech in Porto (Portugal)
* Latinamerica in Focus: Film and Culture Festival in Malmö (Sweden)
* EMSI (Escuela de Mediadores Sociales para la Inmigración), Madrid
The BBC recently flew Laura to Luxor, Egypt, to participate in their World DebateL Can Human Trafficking Be Stopped? televised worldwide 18-19 December 2010 and now online.
Most frequent contributors
1
Anna Arrowsmith
Posts: 3
Comments: 3
2
Douglas
Posts: 1
Comments: 1
3
Jules2012
Posts: 1
Comments: 0
4
Passionate Penny
Posts: 0
Comments: 1
5
Kendo
Posts: 0
Comments: 1
6
Denny
Posts: 0
Comments: 0